Home - About Spiritualism - Spiritualist Links
Ernie's Spiritualism and Mediumship Page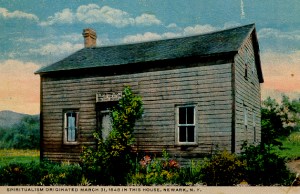 The Fox Cottage 1848 (mouse over)
This is a Spiritualist information site. Learn about mediumship and mediums, spirit healing, readings, spirit contact, clairvoyance, channeling, psychic abilities and more.
More and more information about Spiritualism, Spiritualists and the history will be posted on this site. Take a moment to read About Spiritualism and look into Spiritualist Links .
See Harrison D. Barrett Photos.
New Temple Heights Spiritual Camp History
To Dan Duffy with Love
Join Our Newsletter Mailing List

If you are interested in having a Spirit Reading go to Ernie's or Bonnie Lee's site below.
Home - About Spiritualism - Spiritualist Links
Ernie's Spiritualism and Mediumship Page
---
This site designed, developed and maintained by Zohrala Productions