Hypnosis Fun For Everyone
For hilarious stage hypnosis entertainment
(you're getting ve-e-e-ry sleepy ;>)

Comedy and the power of the mind are combined to bring you an amazing hypnosis entertainment experience that's fun for all ages! Family and students alike.

Looking for unique entertainment for your next event? Think stage hypnosis... the audience becomes the show!


Imagine... the lights go down and the Hypnotist appears. The audience learns a bit about hypnosis, and volunteers fill the stage!

You watch as Master Hypnotist Ernie VanDenBossche performs a hypnotic induction.

And the fun begins… You will be mystified as you witness regular everyday people from the audience become hypnotized and transformed into dynamic performers all with just a simple word or sound from Ernie…

You'll be dazzled as he hypnotizes and transforms audience volunteers into performers like Elvis, Britney, Taylor Swift, and other famous stars!

Watch them "Travel" to Mars and speak Alien.

You'll laugh hysterically as hypnotized volunteers compete in "dance competition," and fall in love with a cartoon.

You'll be amazed as hypnotized men go into labor and give birth! Women are the babies!

These are just a few of the many skits that you'll experience during this hilarious hypnosis show that includes props, costumes, music and most importantly hilarious HYPNOSIS! .

This show is perfect for your school, group, convention, home party, employee party or other special event.

UnforgetableHilariousEntertainment

This show sets up in just a few minutes.
Approximate hypnosis show length 60-75 minutes!
CALL TODAY For more information on how you can hire stage hypnotist Ernie VanDenBossche for your party or special event. Available throughout New England and The Great Beyond.
Call now
207-649-9655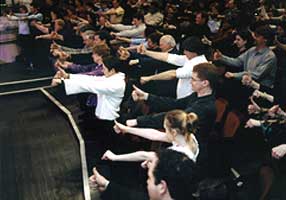 The fun is in watching the expressions and antics of the volunteers.
Hypnosis shows are dependent upon volunteers, the more the merrier!
With adults, we allow audience members to decide for themselves whether or not to volunteer. When we work with high school and college crowds, we usually get a surplus of volunteers and sometimes have to hand-pick those who want to come up on stage.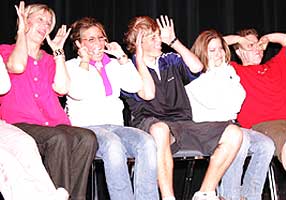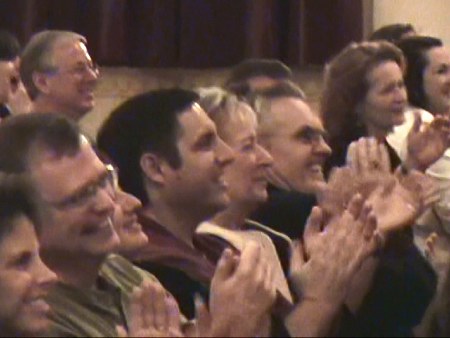 member